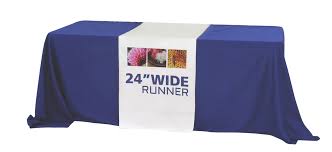 Dress up your tables at trade shows & conferences
Made from machine-washable stretch fabric
Can fit 6′ and 8′ tables 3-sided style gives you access underneath
Printed Table runners Are a Game-Changer
Printed Table runners give your trade show booth a focal point so you can get your point across effectively. Our many options will help you create the right custom, brand-centric printed throws for your business.
Reusable, Machine-Washable
Table runners are printed on durable 8.8 oz. polyester fabric and are reusable. Keeping them clean is easy as the material is machine-washable. They are designed to easily slip over 6' and 8' tables. Spot UV Seals the Deal Spot UV is a special coating applied to a specific area to add shine and texture. It blends well with metallic ink. Use spot UV to bring attention to business logos or product information.
Your Brand Front and Center
Your designs are printed in front of the tablecloth through a process called full-color dye sublimation. The process results in bright, eye-catching colors that'll surely attract customers even from a distance.
Good to Know: Not only are Table runners great for tradeshows, but they are also necessary additions to book signings and press conferences, as well as meet-and-greets.