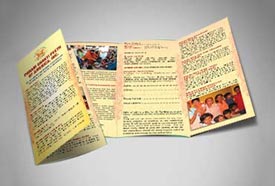 Brochures make a great marketing tool, and a professional way to introduce your business. Send us your artwork. We'll send you a PDF proof to review and approve for free. A hard copy proof can be sent to you for a small additional charge.
If you do not have a print-ready file we will be more than happy to design it for you at no extra charge. Please email us at info@bizprintingusa.com your company logo, text, and pictures required to design your artwork.
Standard Features:
Available sizes are 8.5″ x 11″, 8.5″ x 14″ , 11″ x 17″ and 25.5″x11″. Full color front, 80# Gloss Text or 100# Gloss Text , Quantities of 500 to 20,000
Options:
Ink Colors – Full-Color Front, Full Color Printed Both Sides
Paper Stock – 60# Offset, 70# Offset, 80# Dull Text, 100# Dull Text, 80# Gloss Text, 100# Gloss Text, 80# Gloss Cover, and 100# Gloss Cover.
Folding – Half-Fold (Vertical), Half-Fold (Horizontal), Roll Fold Trifold, Z-Fold, Double Parallel, Open Gatefold, Closed Gatefold, French Fold, Half-Fold then Trifold, Score & Fold in Half, Score and 1/2 Fold on 11″ Side, Score and Trifold, Score for Gatefold, Score for Double Gatefold.
Proof – None, Soft Proof (PDF), Hard Copy Proof
Packaging – Bulk in Cartons, Shrink Wrap in 25s, Shrink Wrap in 50s, Shrink Wrap in 100s
Turnaround Time – 2-4 Days, 2-3 Days
Folding Methods:
Half Fold or Single Fold – made by folding a printed page in half. After folding, the brochure consists of four panels, two on the front, and two on the back.
Quarter Fold – made by folding in half and then half again.
TriFold – made by folding in three equal panels.