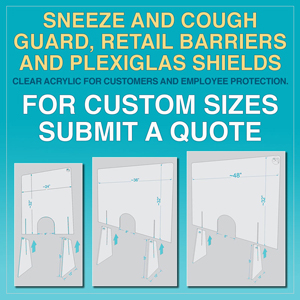 Help maintain social distance and physical separation while protecting from splashes and sprays with our clear plastic barriers. Plexiglass or acrylic sneeze guards, splash guards, cashier shields, and other clear partitions are more important than ever.
* All white areas on submitted design will be printed transparent if that option is selected.
* Printed with UV ink, for longer durability is available- scratch, abrasion, and weather resistant.
* Product durability 5-6 Years indoor.
* Sizes are 24″x32″, 24″x24″, 35″x24″, 36″x32″, 48″x24″ and 48″x32″ with the legs.
* You have two options for legs:
* The legs are 12″ wide by 16″ tall.
– Acrylic legs: They are made of 1/4″ Clear acrylic and they are clean looking and fit seamlessly with the sneeze guard.
– PVC Legs: They are made of white 1/2″ PVC, they hold the piece steadier and they are more reasonable on price.
* The opening is 8″ wide by up to 10″ tall to accommodate for a large cup of coffee. You can choose your own size if you will like to change it.
File Preparation
See our FAQs for file preparation tips and accepted file formats or click on the template tab in this product page to use our size-specific templates.
Custom Quotes & Design Services
If you do not have a print-ready file we will be more than happy to design. Please email us at info@bizprintingusa.com your company logo, text, and pictures required to design your artwork.