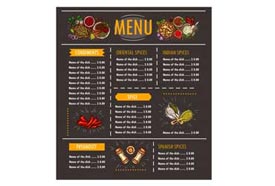 With our wide selection of menu printing options, Advanced Graphics & Printing Services has the answers for your takeout or dine-in menu.
Advertise specials in matte or gloss coating
Add food pics to stimulate customer taste buds
Take out menus can be distributed door to door
Can be used by bakeries, bars, and coffee shops
Menus make a great marketing tool, and a professional way to show your business. Send us your artwork. We'll send you a PDF proof to review and approve for free. A hard copy proof can be sent to you for a small additional charge.
If you do not have a print ready file and if you want to take advantage of our FREE design service to design your print material , please email your company's logo, pictures and text to design@bizprintingusa.com. We will design it send you for your approval.
If you have any questions, please call us at 954-784-8100 X 200 or email us at info@bizprintingusa.com
Standard Features:
Available sizes are 8.5″ x 11″ and 8.5″ x 14″. 1&2 color front and back, 20# Offset or 50# Offset , Quantities of 500 to 15,000
Options:
Ink Colors – 1&2 Color Front and Back.
Paper Stock – 20# Offset or 50# Offset
Folding – None, Half Fold, Tri-Fold to 3.66" x 8.5", Roll Fold to 2.75" x 8.5", Z-Fold to 3.66" x 8.5", 4-Panel Fold to 2.75" x 8.5", Gate-Fold (Closed) to 2.75" x 8.5", Gate-Fold (Open) to 5.5" x 8.5"
Proof – None, Soft Proof (PDF), Hard Copy Proof
Packaging – Bulk in Cartons, Shrink Wrap in 25s, Shrink Wrap in 50s, Shrink Wrap in 100s
Turnaround Time – 2-4 Days, 4-5 Days
Folding Methods:
Half Fold or Single Fold – made by folding a printed page in half. After folding, the brochure consists of four panels, two on the front and two on the back.
Quarter Fold – made by folding in half and then half again.
TriFold – made by folding in three equal panels.
Low Cost and Highest Quality Menus in Sunrise
Low Cost and Highest Quality Menus in Coral Spring
Low Cost and Highest Quality Menus in Lauderdale Lakes
Low Cost and Highest Quality Menus in Margate
Low Cost and Highest Quality Menus in Tamarac
Low Cost and Highest Quality Menus in South Florida
Low Cost and Highest Quality Menus in Broward County